Resident Artist, Frances Scott developed the film PHX [X is for Xylonite] in response to extensive research that encompassed archive and collection visits to Raw Materials: Plastics project partners, as well as use of the UCL Makespace at the Institute of Making and filming at the Institute of Sustainable Heritage labs.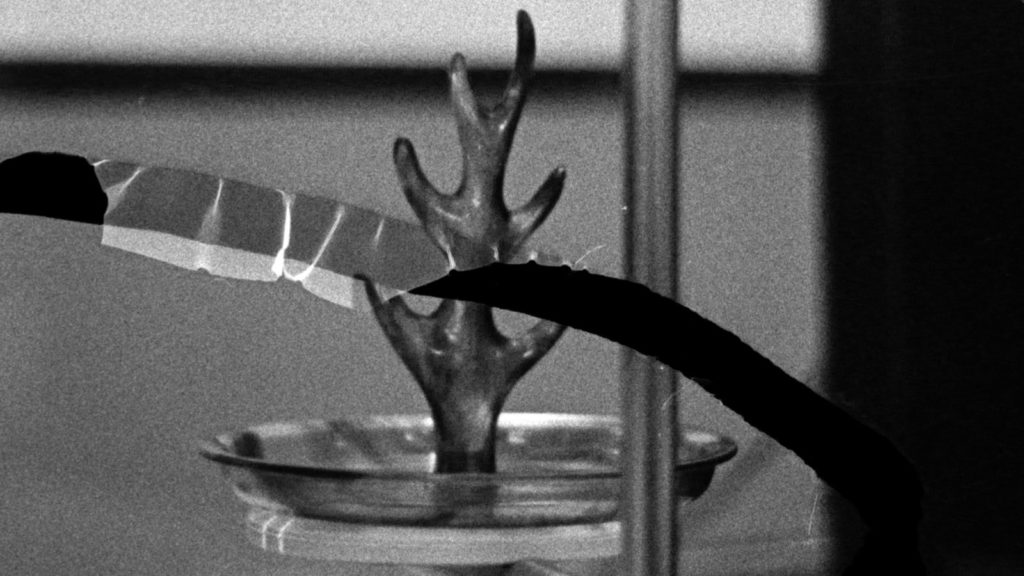 PHX [X is for Xylonite] presents a series of orbiting three-dimensional images of natural and semi-synthetic plastic objects, made through laser scanning and photogrammetry techniques. These are collaged with hand-processed black and white 16mm film footage, which includes a demolition on the site of the original Parkesine factory in Hackney Wick. Both flickering, contingent materials allude to the history of Xylonite in the development of photography and film as, until the mid-century shift to acetate, it was used as the base for film stock, and elsewhere to build props in film production. Extracts from Roland Barthes' essay 'Plastics' (in his book Mythologies, 1957), colour experiments listed in a British Xylonite Company laboratory formula book (c.1888) and symptoms of plastics degradation, of 'crazing', 'yellowing' and 'bloom', are read by Dr. Miriam Wright, scientist and laboratory technician. The soundtrack proposes a warped love song between the organic and synthetic, where the human voice and recordings in shellac – the lacquer obtained from the secretion of the Coccus Lacca insect – are transformed through a vocoder. Although Barthes suggests that plastic "embodies none of the genuine produce of the mineral world: foam, fibres, strata", in PHX, plastics are proposed as strata; so that the layers that make up the film – its emulsion and plastic substrate – are made evident; like the material seams of plastic that will, in future sedimentary rock layers, signal our Anthropocene era and its flawed capitalist productions.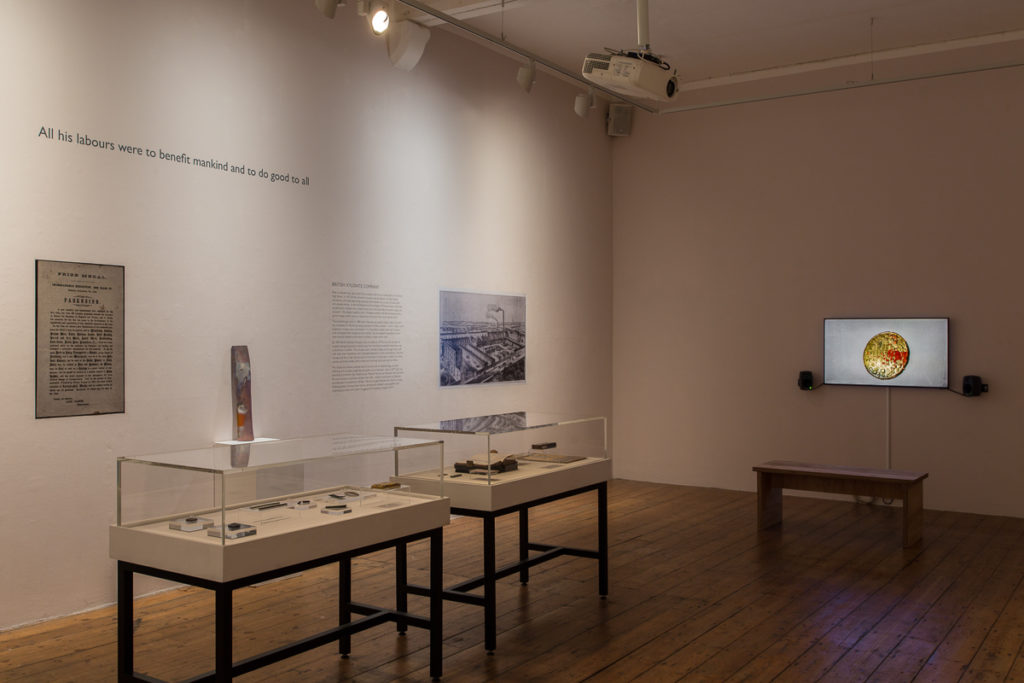 Frances Scott (b. 1981) works with moving image, presented through screenings, installations, events and publications. Her work often considers materials that exist around the periphery of the cinematic production and its apparatus, proposing films composed of their metonymic fragments. abyme.org.uk
PHX [X is for Xylonite], 2019
Single channel film, 12 min 54 sec, 16mm film transferred to digital and 3D animation, colour / black and white, stereo
16mm camera and edit: Frances Scott
Photogrammetry and 3D animation: Phil Coy
Composition and sound design: Chu-Li Shewring
Voice: Dr. Miriam Wright
16mm film processing: with Bea Haut, Film in Process
Images, Top: Film still from PHX [X is for Xylonite], 2019, Above: Installation view, Raw Materials:Plastics at Nunnery Gallery, with PHX [X is for Xylonite] shown centre.