Tucked away near Olympia in West London, Blythe House is a 100-year-old ex-GPO Sorting Office which currently acts as a store for the reserve collections of the British Museum and the V&A. A palatial Baroque building of red brick and stone, it is surrounded by high railings.  Security is tight, not surprisingly. To get inside, you need both a fixed appointment and ID.  Once inside, the interior is cavernous and lavishly tiled from floor to ceiling. A wide stair surrounded by ornate iron bannisters takes you to the upper floors.
Except – we took the goods lift, HAM 37, a rare object in its own right, featured in the film Tinker,Tailor, Soldier, Spy.  Our visit to the Clothworkers' Study Centre within Blythe House was facilitated by Suzanne Smith. The Clothworkers' Centre is the V&A's textile store; about 100,000 objects are stored here in a carefully controlled environment. Access to view objects can be made by appointment – though for practical reasons because it takes a long time to retrieve, display and then return items to the store – there is a limit imposed of 6 items per visit. Fragile items cannot be viewed, and because this is not always obvious in advance, it is also useful to have two to three extra items in reserve when making an appointment to view. The Clothworkers' Centre has specially designed workrooms and large tables for display. It is here, with the help of staff to handle the objects, that visitors can examine textiles in detail.
We were fortunate to view a number of pieces, rarely consulted but fascinating to us, nevertheless. All are products of East End textile manufacturers.
The first textile examined was a length of glazed/polished linen and cotton fabric intended for furnishing – possibly for bed hangings. It had a large repeat pattern of two groups of people. Four gentlemen dressed in 18th Century clothes recline with their guns and two hunting dogs amongst classical ruins. The second party is made up of two ladies, fashionably dressed, and in conversation with two gentlemen – one of whom is fishing with a rod. At intervals throughout the piece are classical ruins, trees and other vegetation may be suggesting carefully created parklands or fashionable landscapes.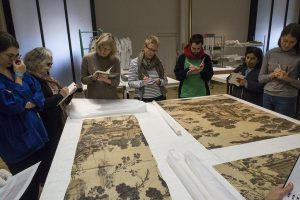 The textile was printed by Robert Jones of Old Ford, 1769, and his details are carefully placed as inscriptions on classical ruins scattered throughout the design. This textile, with a linen warp and cotton weft, has been produced using a number of techniques to incorporate various colours. It was suggested that this included printing with two engraved copper plates, woodblock printing and pencilling with blue. Purple madder has been used in the printing and it would be interesting to know more about the dyestuffs used to produce the greens, blues (possibly indigo) and browns in the piece. The details of the design and printing are very fine and detailed. A pattern book design has been found and linked to this textile. More details and an illustration can be found in the V&A publication: British Textiles, 1700 to the Present (2010).
It is always interesting to find out how museums acquire objects. We learned that this large piece was offered to the V&A by an antique dealer in 1934. A smaller accompanying piece of the same textile found its way into the Circulation Department, from where it would have been sent out to schools and institutions as an instruction piece by the Museum.
The second piece was printed in red alone using two engraved copper plates. Again, inscriptions tell us that it was printed by "R. Jones & Co Old Ford 1761". It shows a rural scene with cows, sheep and country folk set amongst a rugged Classical landscape with ruins and follies. There are beautiful bird designs including peacocks. Suzanne reminded us of the influence of contemporary books of drawings and engravings published at this time – for example, Robert Saye's New Book of Birds (London). It is also obvious to see the influence of French Toile de Jouy designs in this piece.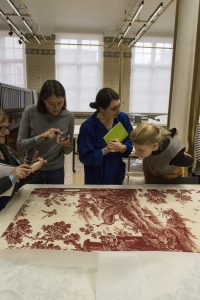 The introduction of copper-plate printing in the 1750s meant new possibilities in printed textile design. It allowed for the fineness of detail and delicacy of drawing, which could not be achieved with the woodblock technique. It also facilitated much larger pattern repeats, which made it particularly suitable for bed hangings.
The third textile, also monochrome, was plate printed in blue with birds, fruits and flowers accompanied by shells, rococo curves and swags and possibly a bouteh or paisley motif. Not much is definitively known about this piece but it was perhaps made at Bromley Hall.
Bromley Hall was on the right bank of the River Lea in Poplar. It was probably the largest of the early print works – first mentioned in the 1740s, and in operation until the early 19th Century.
A blue plate-printed cotton fabric for a chair seat cover (T.527-1985) was also possibly made at Bromley Hall in 1770-1795, "in the style of Talwyn and Foster". This design consists of large flowers and loosely trailing ribbons. The cotton fabric has been lined with linen and trimmed with silk ribbon. There are original hooks and eyes attached to the piece and careful examination revealed the original colour tucked away in a seam.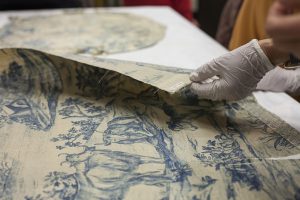 The fabric used is referred to as "china blue" – a complex process for printing with indigo known abroad as "English blue". It gave fast blues. The indigo was printed directly onto the cloth by plate, or block, as a finely ground paste. The cloth was then immersed alternately in baths of lime (to dissolve the indigo) and then iron sulphate (to reduce it) as many times as was necessary to achieve the desired strength of blue. It could not be used with other techniques, so china blueprints were always monochrome.
A large piece printed by plate in blue at Bromley Hall in 1785 (below) shows a landscape of classical ruins, rivers, farm animals and people. There is also a dwelling house, with an intriguing figure in the doorway, and a church nearby. The vegetation, we thought, seemed to be exotic and we wondered what influences there were behind this. We also noted the small print border sewn on to the textile.
Our final piece, printed in red with a recurring flower and leaf motif (12A-1884) was the earliest textile displayed for us. A block-printed furnishing cotton, it was acquired by the Museum from an Icelandic source in the 1880s. Thought to be English in origin; William Sherwin of West Ham In London was granted a patent 'for a new way of printing broad callicoe" in 1676 and he was probably the first English manufacturer to print textiles using madder dyes and mordants to fix the dye.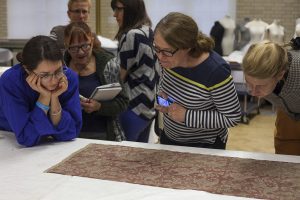 Many calico printers had workshops in East London in the 1690s, near good sources of water like the River Lea. They were establishing a domestic industry imitating the fashionable Indian textiles imported into England by the East India Company.
This was a great visit and an inspiring introduction to the project. It was wonderful to examine closely some early Lea Valley textiles.
Photographs by Heather McDonough