---
I suppose it had to happen eventually. South of the River Lea. South of the River Thames. The London Overground made it painlessly quick and easy to reach Denmark Hill.
We are heading to the Heritage Centre at the William Booth College, part of the Salvation Army's training headquarters.
The building itself is quite remarkable, a towering edifice with nice simple lines on the less is more principle. The architect Gilbert Scott has given London some fine buildings, as well as the iconic red glazed telephone box, but this feels like a bit of New York art deco in south-east London. The bronze-topped lighting columns at the entrance are mighty, the windows to the facade, although painted white, remind me of Gilbert Scott's telephone boxes. I am already getting some south London envy.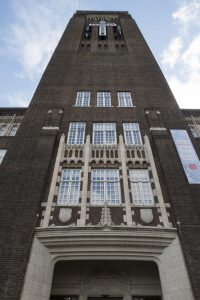 For those of us who arrive early, free tea or coffee is available in the light, airy ground floor coffee lounge. We don't have too much time to get comfy on the sofas though and head up to the heritage centre. Almost everyone comments upon the open lift shaft; some of us probably remember attendant-operated lifts with metal closing gates from our childhoods. I am taken right back to a provincial department store. The lift has been replaced, but the original would doubtless have had metal gates, probably very state-of-the-art, and there would have been a lift attendant too.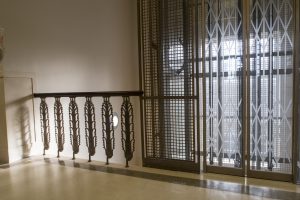 The archivists know that we are interested in the intriguingly named Salvation Army Knitting Home, known also as the Knitting Factory, in Upper Clapton. It provided training in machine knitting and safe accommodation for women, some barely more than children, who were at risk in Victorian London.
The archive materials are comprehensive and we are able to access bound copies of the monthly magazine produced by the Salvation Army, The Deliverer. The magazine cost a penny and updated supporters about the work of the Salvation Army in the United Kingdom and overseas. Many of the editions have an advertisement for the Knitting Factory on the back page, urging readers to buy their winter hosiery and underwear, "superior quality, best of workmanship, and low prices", reminding prospective buyers that their purchase "will help the Kingdom of God, and encourage our 'Industry Girls' who are desirous of earning their own living.". Other advertisements offer Tripadvisor-style reviews from happy buyers; from West Dulwich, "many thanks for socks, which please my brother much"; from Streatham Hill, "I am very pleased with the socks, and beg to enclose a P.O."; from East Finchley, "Mrs D- herewith encloses P.O. for stockings just to hand. She is very pleased with them as they fit very nicely".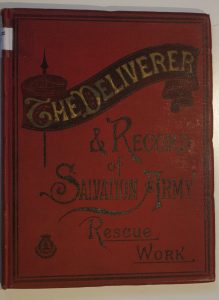 The main treat and privilege of the visit must be seeing the admission record books for the residents at the Knitting Home. The stories are heartbreaking. One sixteen-year-old girl's "cause of fall" is recorded as "going with boys about twelve months ago". She had been in domestic service from the age of fourteen, and "the Mistress came home one night at 9.30 and found a man in the kitchen" and she then went to other posts, at the last of which another young man visited her there. Her mother had been informed and "consulted the S.A. Insurance agent who applied for this sixteen-year-old girl to be admitted into the Knitting Home". It was noted that she had never stolen. Her personal appearance was recorded as "rosy, healthy girl – auburn hair" and she left the home for another situation in domestic service in October 1904, where it was said that "this girl came to God and showed by her life that a definite change had been wrought, she can work well, and ought to do well, with a kind firm Mistress".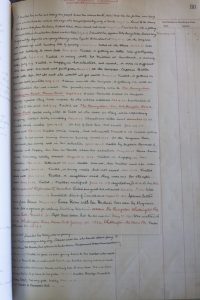 Each page of the record books tells a human story. Considering that these reports were written without any thought that people might be looking at them over a hundred years later, I was struck by the kindliness with which they were written. A glimpse into the stories of the unfortunate circumstances through which these young women found their way into the Knitting Home was quite unexpected and very moving. The stories will certainly stay with me.
One poor girl had been raped by her step-father, who had been tried at the Old Bailey and sentenced to 6 months imprisonment. At least her rapist had faced justice, particularly as he was a family member. I just hope that her work and living at the Knitting Home allowed her to regain her life, learn a trade and feel a bit empowered. I can't help hoping though that she had not been sent away by her family as some form of punishment for the fact that she had been raped.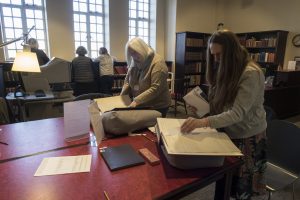 The hours worked seem long compared to the average day in employment now. In the October 1899 edition of The Deliverer, we are told "with the exception of Saturday afternoons, from eight o'clock until twelve of the morning, a little more than two hours and a half of an afternoon, and from a quarter to five until seven of an evening, the happy work goes on, a scene of happy usefulness that it would be hard indeed to surpass.". There were nineteen women then working in the factory, producing hosiery, knitted goods including uniform jackets, jerseys and Norfolks, vests, pants, cardigans, skirts and dresses. The factory would also accept special orders and repairs, and had added a new line, "cycling knickers".  Aside from the advertisements and articles in The Deliverer, there were pedlars who sold items produced door-to-door across the country. The pedlars were officers of the Salvation Army and the peddling seems to have been part of their duty, spreading the word about the rescue work and selling its machine-knitted produce.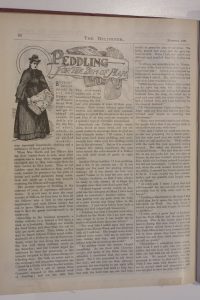 I would urge everybody to visit the heritage centre, not just for the splendid building, but to feel part of some real social history and experience the moving stories of some of the women who were "rescued", given refuge and an opportunity to learn a skill and recover their lives at the Knitting Home. There was no requirement for the women to become members of the Salvation Army, although some did.
We were so lucky to be tipped off by Naomi Sharpe at Queen Mary University of London about the Knitting Home, otherwise we would never have come across it. The factory did not produce early fancy printed calico, new dye colours or wood-blocked repeat printed fabrics for well-known stores, but it quite possibly produced a greater sense of pride in its output to its workers, young women whose lives had been harsh in a way that few of us will have experienced.