Visit to the V&A stores by Steering group member Anja Mcloughlin, local resident and digital journalist.
It was a miserable Wednesday morning that the Raw Materials skipped across town to Kensington Olympia to visit the V&A archives. The imposing former Royal Mail headquarters that now houses 90% of the V&A's objects (the other 10% being on loan or show) was a grand example of gothic Victorian architecture.
After arriving, checking our belongings and obtaining a festival-like armband, we met the V&A's lovely acting head of Furniture Conservation Studio, Zoe, who was to be our host for the day. Zoe explained that the V&A employed conservators with a specialism in every kind of material, including metal and plastic. The wood conservators looked after furniture primarily but there is also quite a bit of crossover. For example, they often find themselves assigned objects from fashion, such as shoes with wooden heels, and objects from the Museum of Childhood such as dolls' houses, which would indeed keep it interesting.
Zoe lead us up to the second floor to show us where and how the V&A stores many of its objects that aren't on display. The long corridor ahead was punctuated on either side by what resembled a large-scale filing cabinet; a quick turn of the key reaffirmed this, as an object-heavy unit slided effortlessly out. Inside the 'cabinet' we found tables and chairs dating back as far as the 15th Century, all gifted to, or acquired by the V&A (sometimes in lieu of paying inheritance tax). The most breath-taking artefacts we had the good fortune to see was probably a pair of French gilded gold chariots. We also discovered that renaissance style objects were overrepresented in the archives as there was such a big interest in renaissance style art in the 19th Century.
Most of these objects would never be on exhibition, but they are available on the Blythe House Collection's online archive. The online archive is a great resource for historical researchers or other smaller museums, as they can search for objects from a given era or style, and put in an application to borrow them. The process generally takes around a year and half, and involves a high level of conservation before the objects are ready for dispersal. In addition, the V&A has many blogs that explore the conservation process in further depth.
In preparation for 2017's Korean Art exhibition at the V&A, the conservations department had received a grant and invested it into acquiring a 'national treasure' on Korean lacquer. The Raw Materials group had the pleasure of meeting this 'treasure', known as Mr Yang, and witnessing him at work. Korean lacquer is made out of tree resin, much like European lacquer, but is more robust and therefore lengthens the lifespan of objects. We watched as Mr Yang employed incredible skill and dexterity to apply the lacquer to intricate fish-scale detail on a 19th Century tray top.
We met Dana Melchar, the senior furniture conservator, who specialises in lacquer. Dana explained that conservators like her look for pre-existing damage in objects under their consideration and use breaks in objects as a way in. Breaks are also useful in giving conservators an insight into the multiples layers that make up the object. On some of the Korean chests being prepped for exhibition we were able to see marks applied by the designers hundreds of years back, which was fascinating.
Our visit to the V&A archives was enlightening. It was great to get a sense of how objects are stored and the care that goes into treating them and getting them ready for exhibition. To be shown around by Zoe, who is clearly bursting with passion for the collection, was a privilege and has certainly inspired the Raw Materials team, gearing up for our own exploration into the heritage of wood.
Images courtesy of Victoria and Albert Museum, London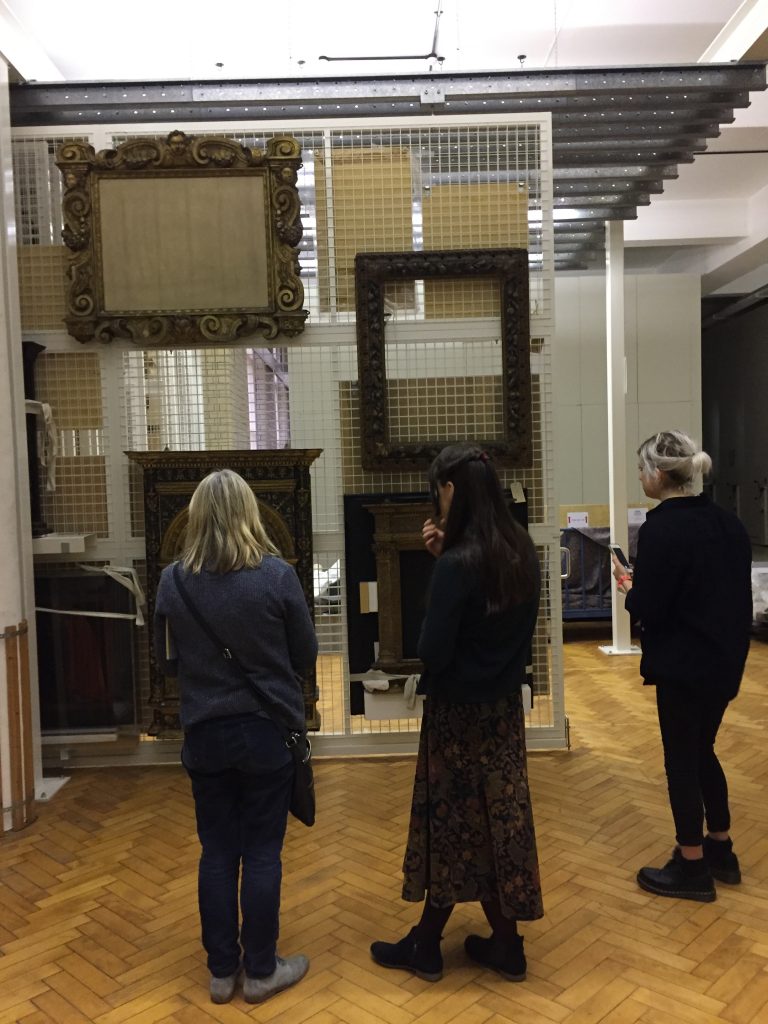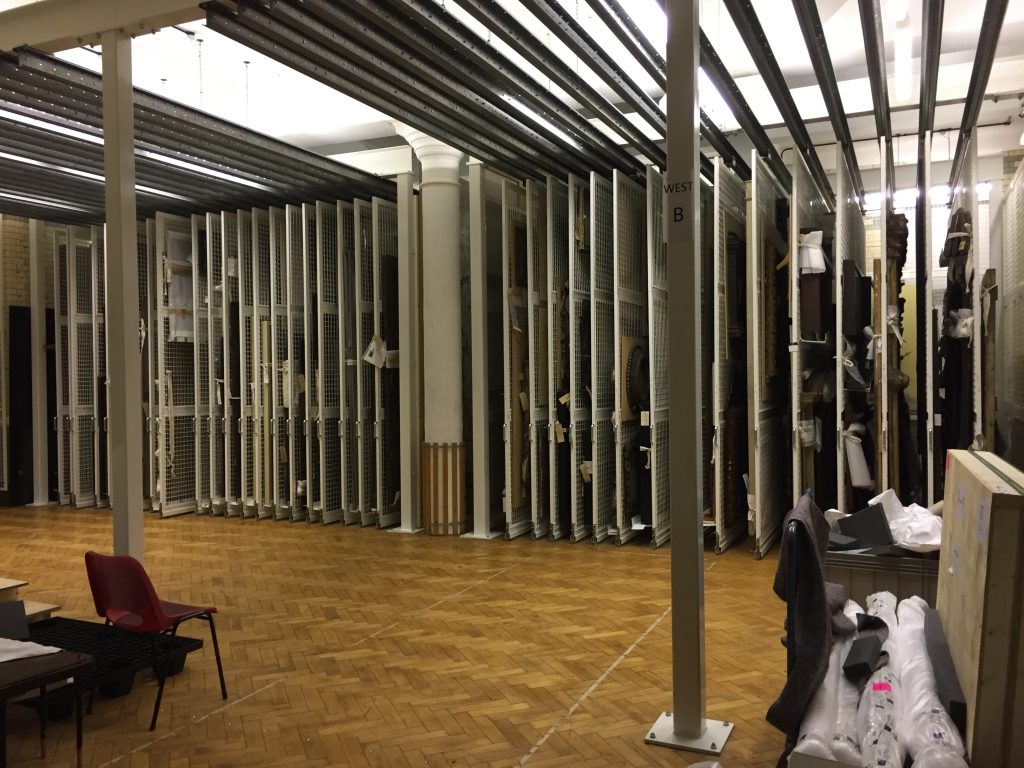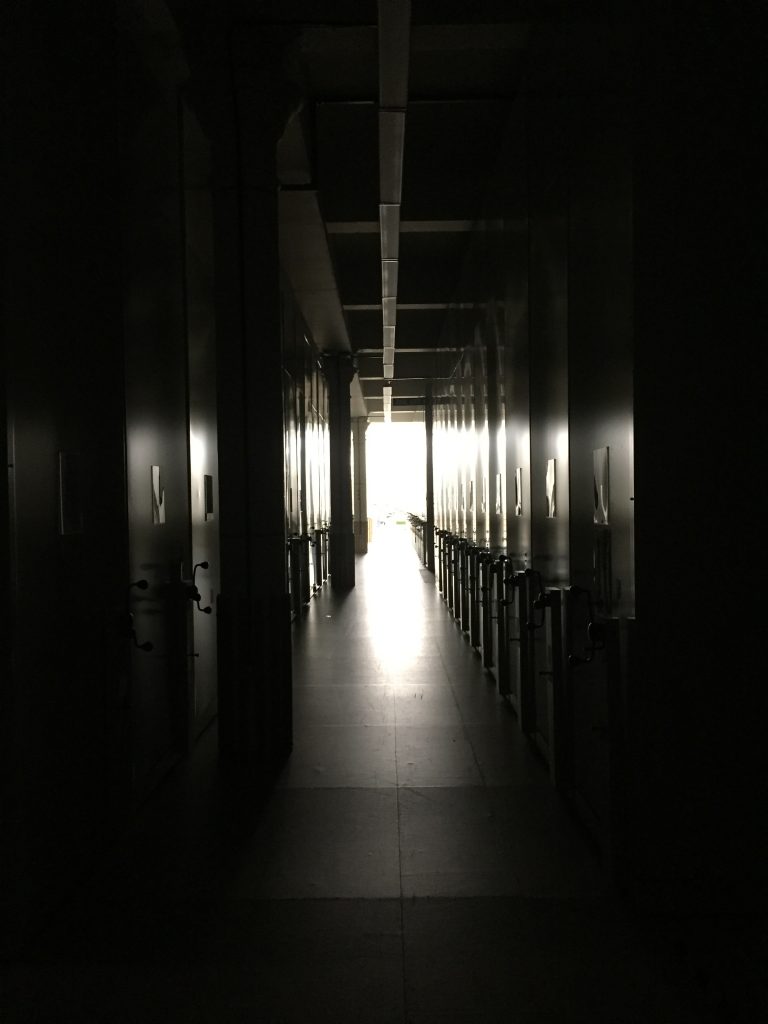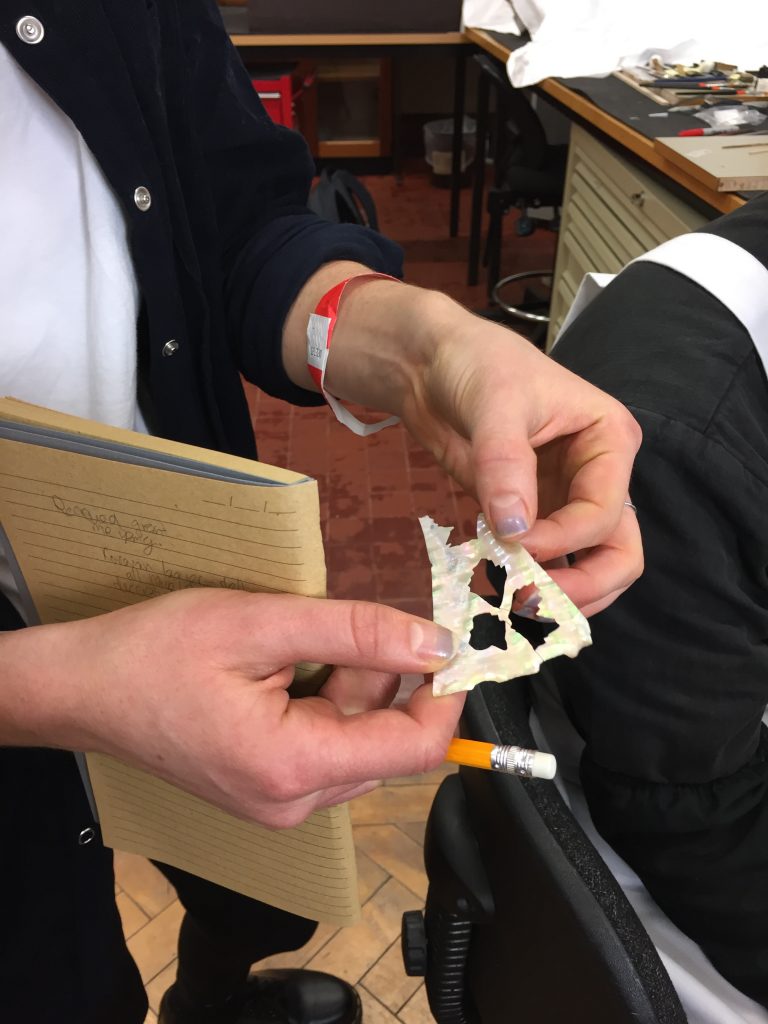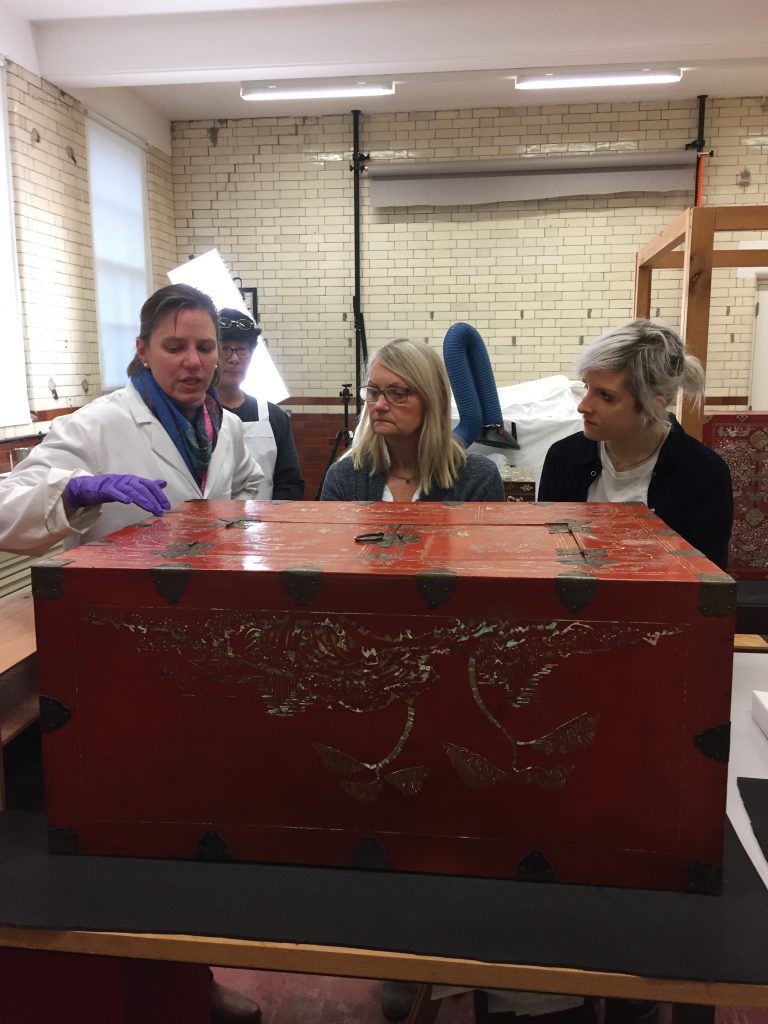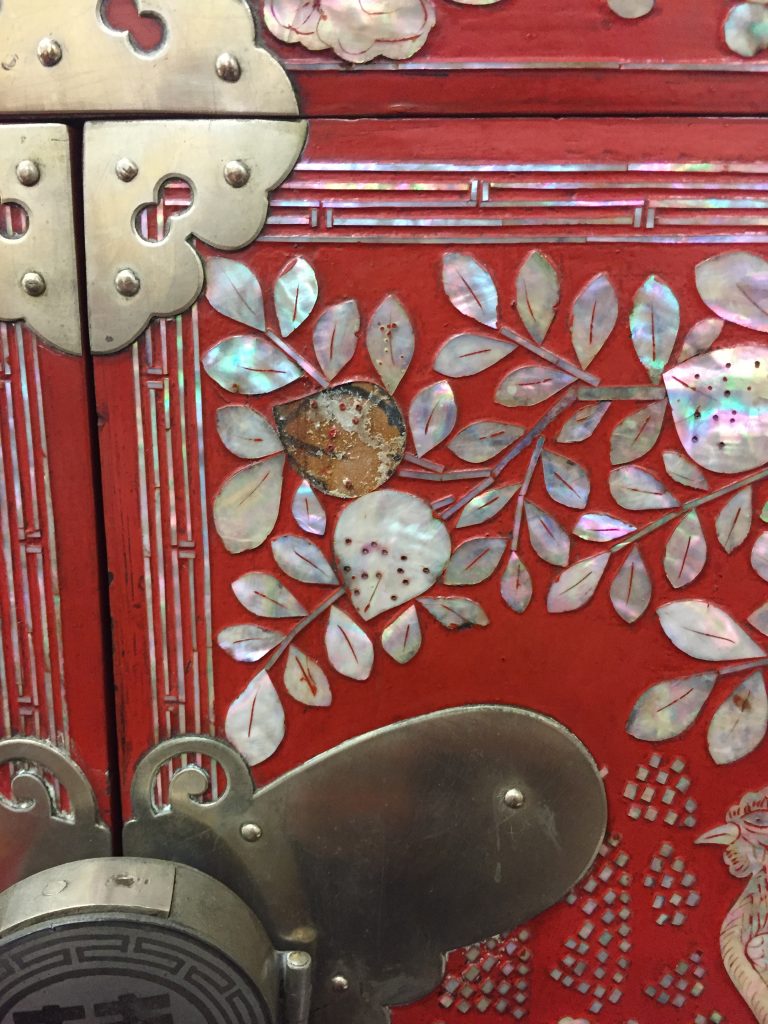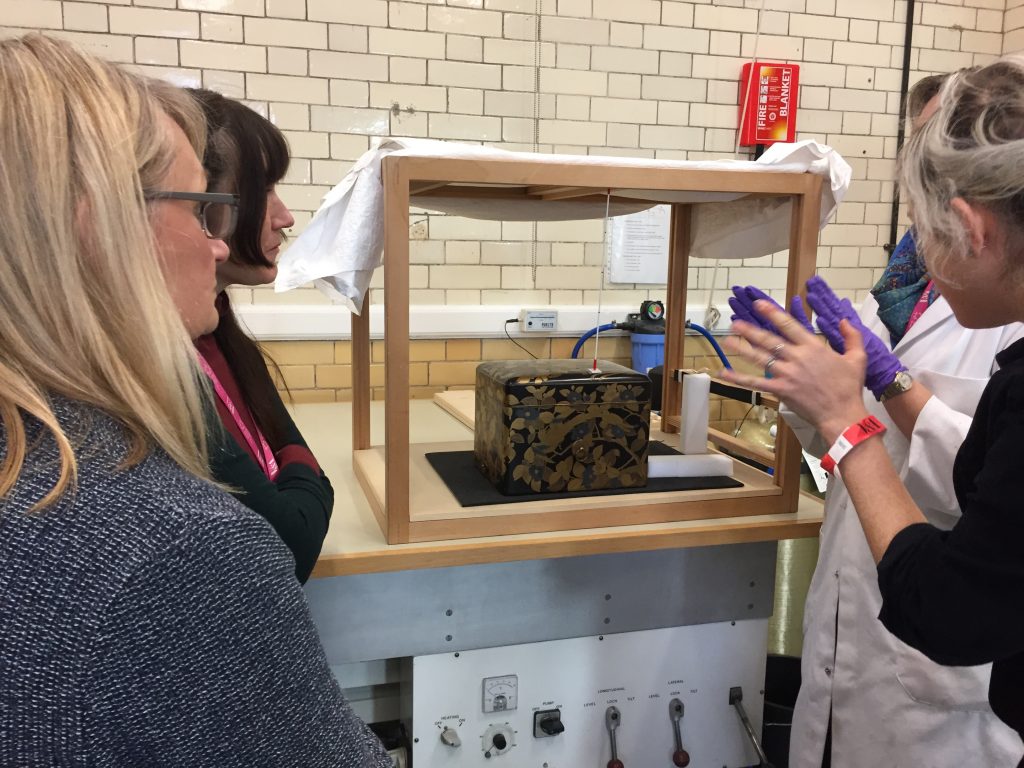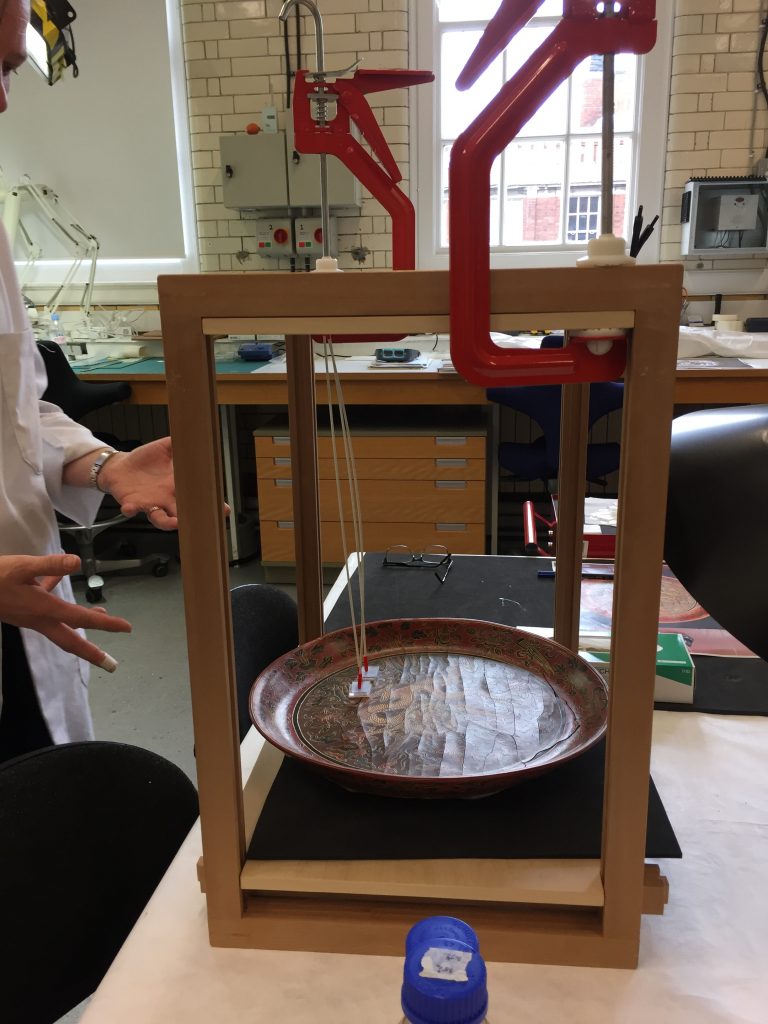 Images courtesy of Victoria and Albert Museum, London