It was bitingly cold as we gathered outside the William Morris Gallery in Walthamstow in the morning, but our shivers were soon soothed by the warmth of the colourful array of designs and vibrant patterns we were introduced to on a tour through Morris' key developments and techniques, as explained very competently by our guide curator Rowan Bain.
Morris was instrumental in popularising the processes of printing and dyeing, found to be active along the Lea in the nineteenth century. He even named a collection of his most sophisticated designs after the Lea and other Thames tributary rivers because of their natural properties of energy and flow.
We first discovered a bit of background about Morris, how, although he became a famous socialist, artist, poet and designer, he was originally destined for the clergy. However, after meeting Edward Burn-Jones and reading John Ruskin at university, he became far more influenced by architecture than the church and decided to abandon his former plans and become an artist. Rowan showed us a letter which Morris wrote to his mother explaining his change of direction. We thought it was a great personal document for the museum to have obtained.
We then looked at early Morris designs which were hand-drawn and showed how he was working out pattern repeats for wallpapers and furnishings. The first being his 'Trellis' pattern with plants weaving through a trellis background.
Realising there was a gap in the market for a choice of home furnishings available generally on the market, Morris launched his own interior design company in 1861, with craft maker friends such as Philip Webb, who also drew the birds for Morris' wallpaper designs. As Rowan pointed out, Morris didn't feel confident enough to draw them himself and had already, from early on in his career, collaborated with a talented pool of friends to complete his visions.
He then took 'abstraction' and 'nature' as motifs to create 'flat' designs for walls, rejecting the fashion for realistic flowers and fruit arrangements popular at the time. He went on to win awards at The Great Exhibition and attract large commissions, such as furnishings for St. James' Palace.
Here, Rowan showed us the large woodblock design he used.
Merton Abbey Mills
Needing to expand his business space, in1881 he opened workshops on the River Wandle in South West London at Merton Abbey Mills. The river played a vital role in supplying water for the process of rinsing textile dyes.
Arthur Liberty, of Liberty, Regent's Street, was based just up the road and he also turned to renowned silk printer and Master dyer, Thomas Wardle from Leek, Staffordshire, whom he worked closely with. He loved 'woad' blue of earlier textiles but the manufacturing of this had died out and been replaced by Indian indigo.
The whole fabric would be submerged in vats of indigo and then a 'discharge method' was used, which meant the 'bleaching out' of areas on the fabric where other colours were required and inserting those dyes into the bleached parts. This method was labour-intensive and time-consuming but produced beautiful high-quality textiles.
Woodblock Printing
As Rowan led us downstairs, we came across several hand-carved woodblocks suspended above their corresponding designs. We got to examine them close up to enjoy the detailed lines and skilled laying of metal pins which create 'points' within the design.
Nails on the corners of each block were used to register the block as it was laid on the material and a steady hand was needed to ensure the blocks would be laid correctly aligned along with the pattern. Felt was added to the blocks in the areas where it would receive the dye. Morris used natural dye sources, especially indigo and traditional dying techniques.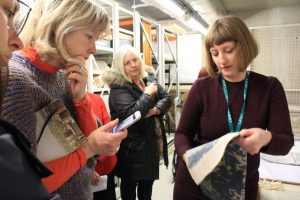 We then followed Rowan down into the museum's archive storage in the basement, where we looked at a huge variety of woodblocks in various states of repair or cleaning.
We were shown how Morris worked out his designs and produced one with the different stages of the repeat laid out in lines that would explain clearly where the woodblock maker would work.
The blocks were made of a few thin layers of pearwood pressed and glued together. This was to prevent the wood warping, which it would if it were cut from a single block of wood. They were manipulated by a handle attached to the back of the block and pressed down onto the fabric. A few of us took turns picking up one of the blocks to get a sense of the fairly hefty weight of them. A firm in Bethnal Green, Barrett's & Co made the blocks for Morris and apparently, the best aid to cleaning them is…spit!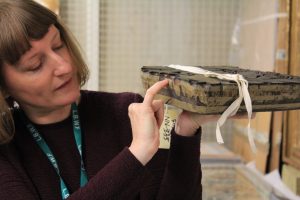 There were shelves packed with woodblocks and other furniture pieces designed by Morris and it was fascinating to peruse his vast collection.
And so, we ended an insightful morning with lovely hot beverages in the café upstairs overlooking the beautiful gardens beyond.